Recently, we sponsored and attended the M-Enabling Summit in Washington D.C. For those of you that are not familiar with this Summit, it's an established initiative that promotes accessible technologies and environments for senior citizens and persons with disabilities. This atmosphere provided a unique platform for executives from government, industry and advocacy organizations to network and participate in specialized sessions and discussions.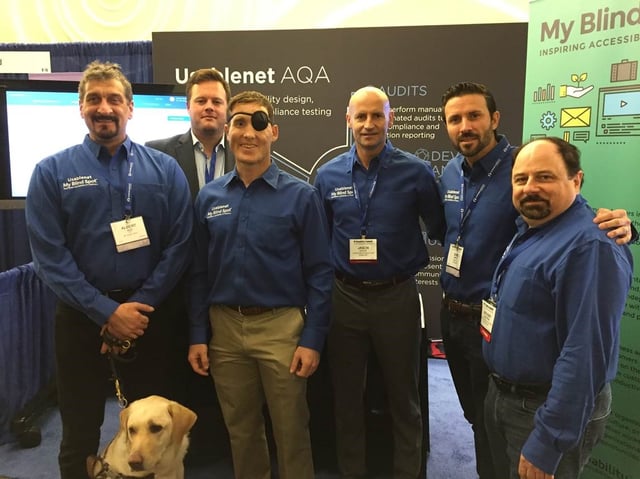 Being around so many knowledgeable and passionate industry experts allowed our team to continue gaining an understanding of the challenges the disability community faces and how our efforts to make web accessibility the standard is more relevant than ever. Here are 3 takeaways from the conference below:
Number One: Accessibility is About Inclusivity and Usability
Think about the user experience first! A great UX is accessible and accessibility/inclusivity creates a great UX for all. Not nearly enough vendors or companies are thinking this way. There was a lot of talk about building a better mousetrap to catch errors (we have great tools too), but nobody lead or showed great UX.
To achieve this, start thinking about inclusive design which can be defined as 'design of mainstream products and/or services that are accessible to, and usable by, as many people as reasonably possible…without the need for special adaptation or (specialized) design'; this same concept should apply when building out a website or mobile app and should incorporate WCAG standards throughout the process.
Number Two: Many Companies See Accessibility as a Separate Effort
Accessibility, unfortunately, is not part of everything a company does to build great digital experiences. Manual and automated testing is done at the end of a project. Testing with members of the disability community isn't performed. There are companies leading the way, but many need to further integrate accessible (or better, inclusive) design, development, testing and maintenance into standard processes. Brands are missing out on an integral part of their business when they don't provide experiences for all users regardless of ability.
Number Three: Let's Use Technology to Open New Opportunities
The world of Accessibility is very large - employing people, physical world, technology and more. This was the subject of a great panel discussion facilitated by Frances West with contribution from Suman Kanuganti, Founder and CEO, Aira; Megan Lawrence, Accessibility Technical Evangelist, Microsoft; Kathy Martinez, SVP Disability Segment, Market Brand & Strategy, Wells Fargo; Albert Rizzi, CEO, My Blind Spot; Pat Romzek, Cisco Systems VP, Worldwide Cloud Strategy and Operations and LifeChanger Founder; and Jason Taylor, Chief Innovation Officer, UsableNet. Technology is so important because it can affect how people connect to employment opportunities and their way of working, especially in the gig economy. Innovation can bring opportunity to the disabled community, not just enable the community to step into the current workforce. This makes us excited about the work we are doing with My Blind Spot to connect people to expert user testing work through AQA (aqua). Other innovations like https://aira.io are providing completely new ways for the blind to interact with the physical world through a visual interpreter and Google Glass.

Having the chance to speak with and learn from other leaders in the accessibility space was incredibly inspiring. The incredible reception to our UX first approach and our design, development and compliance testing hub, UsableNet AQA

(aqua)

, was amazing. We are looking forward to going back next year!