UsableNet's research team tracks all federally filed Americans with Disabilities Act (ADA) website and app accessibility-related lawsuits. The aim of this activity is to identify emerging trends that can help our clients and others with their digital accessibility initiatives.
We've released our 2019 Midyear report which includes findings highlighted here.
The 2019 web accessibility lawsuit report
The rate of lawsuits filed in federal courts related to website and app accessibility has now hit a rate of one-an-hour, that's 8 a day, 40 per week and set to be on pace for over 2,000 lawsuits again this year.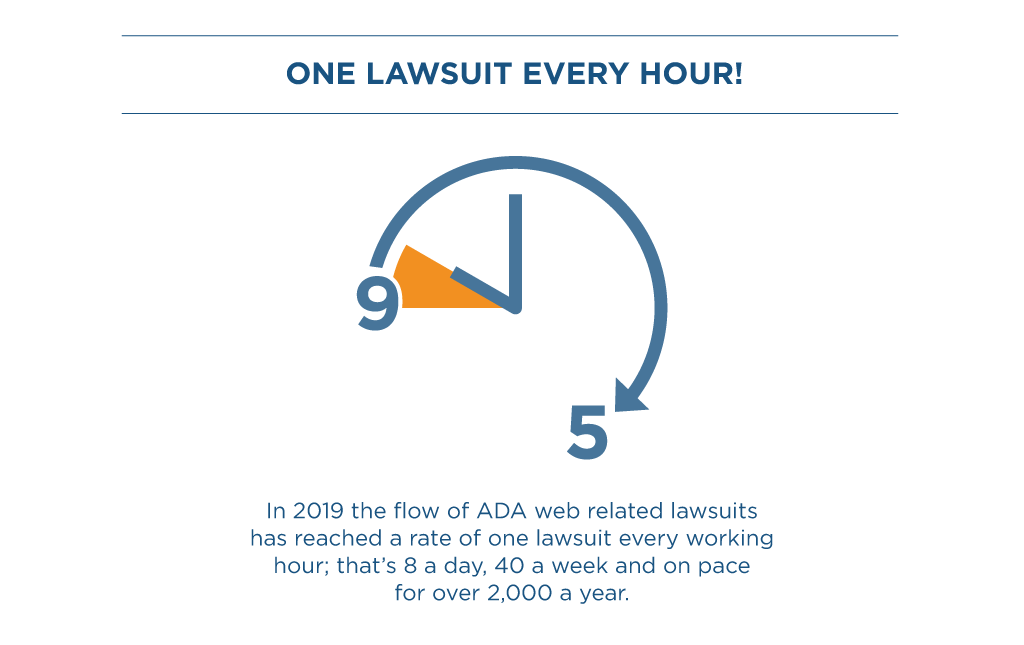 Image description: Image depicts a clock and confirms one lawsuit per hour rate
Even if that sounds like a lot it is only the starting point of the volume of companies being affected. In addition to the companies being listed on claims in federal court, there is a growing number of state filed lawsuits and demand letters sent directly to companies claiming harm and requesting compensation for damages.
The number of all these are growing because….
Most Companies Settle and Settle fast
Our new research reveals not just who is sued but how long the cases stay open before a settlement is made. The average case is open less than 60 days and the vast majority of companies settle and do not take the case into a protracted court process. Why?
In short, it is cheaper to settle than to defend.
Most companies are unaware of digital accessibility; some businesses even feel victimized when they receive a website accessibility claim. It is common for defendant lawyers, when their client have taken steps to allocate resources for digital accessibility, to recommend settling. The only real costs in an ADA lawsuit are the attorney fees (in some courts some small damages can be added). So, Counsel's default recommendation is often to settle fast and then act fast to make the Website accessible in order to mitigate and defend future claims.
UsableNet Assistive has been adopted by many companies looking to deliver accessibility in weeks and have that accessibility maintained.
Act fast Or expect another suit soon
With 25% of all ADA lawsuits in 2019 naming a defendant for at least the second time. That means if you are sued once you are likely to be sued twice if you do not take action. For some companies with multiple brands it could be the 6th or 7th time the holding company has been listed in a suit. We wrote a blog on why retailers are targeted multiple times for ADA Website Accessibility and how they can reduce this risk.
In short, a company should have an enterprise and multi-brand accessibility policy that is immediately communicated internally and externally and start working on accessibility to mitigate the risk of future lawsuits. Companies should act immediately to mitigate risk of multiple suits.
48% of Top 500 Retailers Sued
The retail industry continues to be the top targeted industry with almost half of the top 500 US retailers being listed in ADA lawsuits since 2017. But it is not just Retail, there are over 20 different industries affected along with Retail including the Food Service Industry, Travel, Real Estate and Entertainment.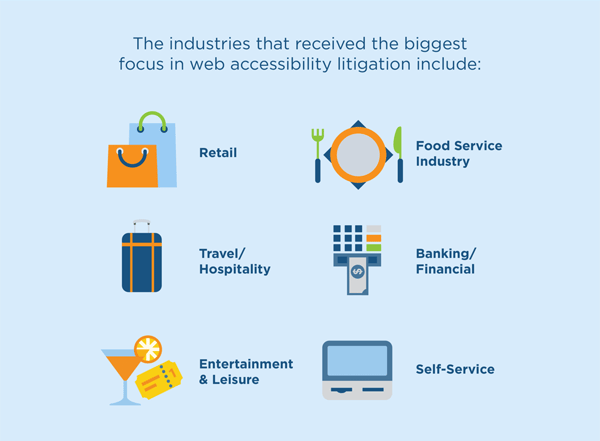 Image description: The industries that received the biggest focus in web accessibility litigation include retail, food service, travel/hospitality, banking/financial, entertainment and leisure and self-service.
Nationwide and International Effect
Although two states (NY and FL) are the most common federal courts that lawsuits are filed in, most likely due to the location of the plaintiff and plaintiff's law firm, but the internet has no borders. Companies are selling and providing services nationwide via their websites, a trend reflected in the companies being sued. Defendant companies are located throughout the US with more than 6% headquartered internationally with business dealings in the US.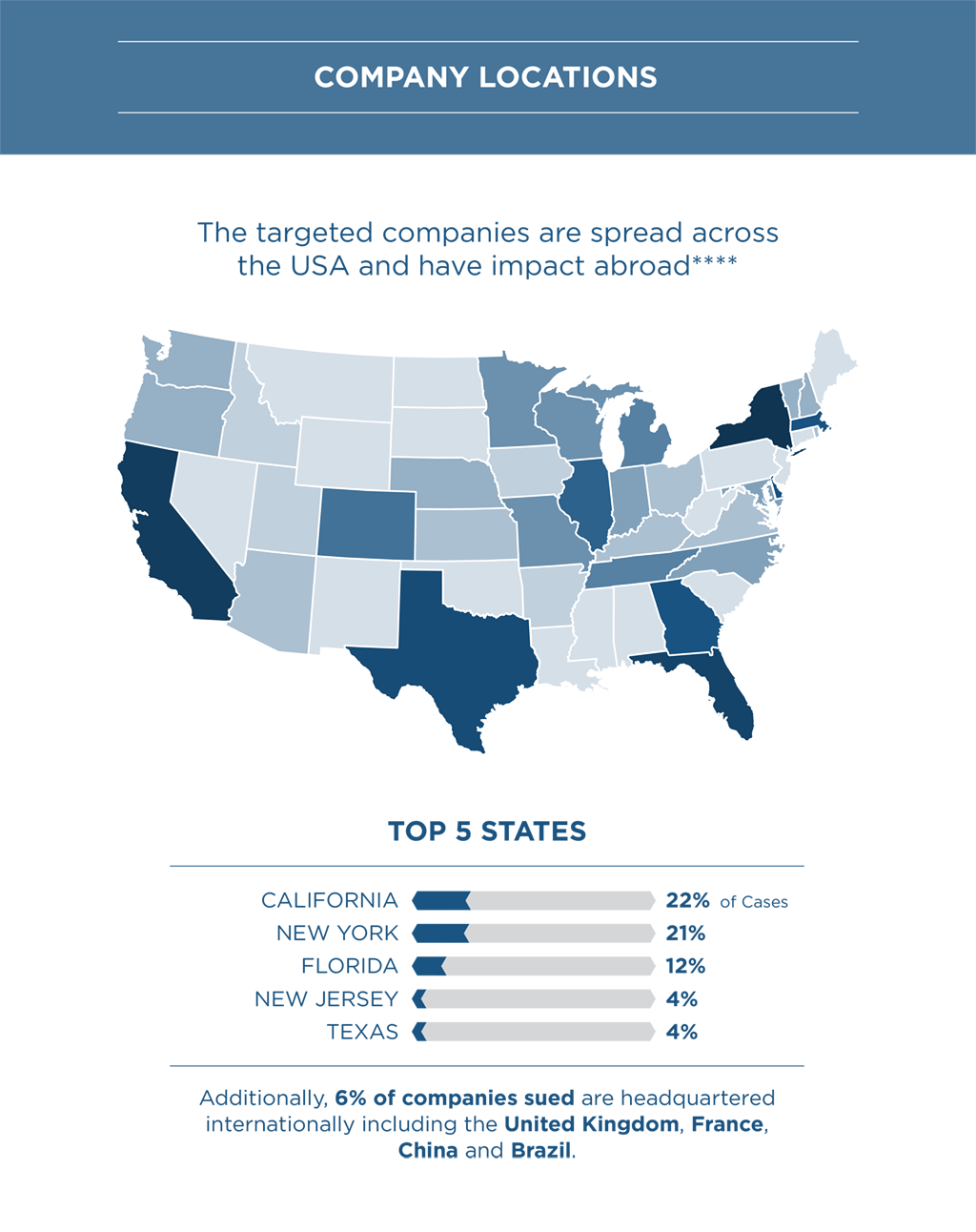 Image Description: A visual depicts a map of the United States with top states for headquarters of lawsuit recipients, California, New York, Florida, New Jersey and Texas in dark blue. Image notes that 6% of companies sued are headquartered internationally in countries including the UK, France, China and Brazil.
Summary
2019 is on track to at least match the number of federally filed lawsuits recorded in 2018. State level lawsuits and demand letters are on the rise. This will mean that in 2019 Web Accessibility should have an increased prioritization for companies. There are many resources to help, including those from UsableNet. If you're ready, feel free to contact us for your free ADA Website consultation.