At UsableNet, we understand that getting to know the legal and technical issues of ADA compliance for Retail Websites and apps can be confusing. Whether creating a new Website or starting remediation of an existing one, it can be difficult to know where to begin. This is why we created our new, Essential Guide to ADA Accessible Websites for Retailers - just in time for your holiday season planning.
Over one billion people are estimated to live with a disability, about 15 percent of the world's population. Making your Website and Mobile Apps accessible to these customers can boost your market share and revenue. And as one of our our Assistive clients, a New York- based shoe retailer put it in a soon to be released case study put it, "It's the right thing to do."
You can also reduce legal risks.
The rate of ADA lawsuits for in accessible Websites surged in 2018 and 2019 is on track to exceed it. Retailers are most likely to be targeted. Last year retailers made up 38% of suits and early data from 2019 shows this trend continues, with retailers being more likely to be sued multiple times.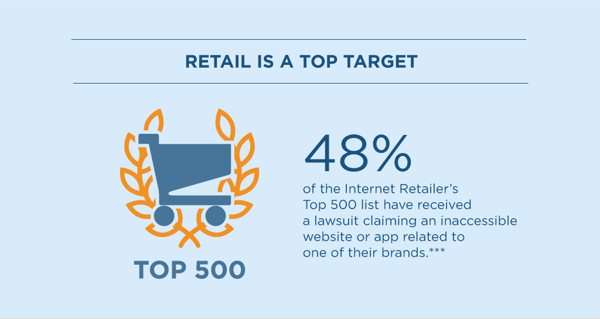 UsableNet is here to help you build stronger relationships with shoppers this holiday season. That means making sure you can serve customers of all abilities with usable and accessible Websites and mobile apps.
Download our Guide to Accessibility for Retailers. Based on our 20 years of industry experience we will help you understand:
How the ADA applies to your website

How to win more shoppers and grow online sales