While currently one in every six online dollars is spent via mobile device, mobile influences 36 cents of every dollar spent in the store. E-commerce is growing five times faster than traditional retail channels, and mobile commerce is growing three times as fast as e-commerce as a whole.
Mobile commerce is benefiting from an evolution in consumer behavior as well as improvements in technology. Increasingly consumers are shopping across multiple screens – desktops, smartphones and tablets – beginning their journey on one device, continuing on another, and completing the transaction on yet another.
Mobile is already the primary point of interaction for many consumers, who often first engage with brands by clicking through email campaigns and social links on their smartphone, or searching on a mobile browser. To date, it has been a challenge for marketers to capitalize fully on this behavior and create marketing campaigns that are customized for mobile.
In short, marketers need the ability to create mobile campaigns quickly and cost-effectively to make the most of every opportunity to reach shoppers on mobile, tablet or while shopping in an app.
To solve these challenges, U-Campaign, was designed to give marketers the flexibility to do just that!
Powered by our U-Experience platform, U-Campaign provides marketers with the ability to create mobile campaigns and landing pages quickly and easily. U-Campaign is a "self-service tool" that makes it possible for marketers to create, execute and manage multiple mobile marketing campaigns. With U-Campaign, marketers with a small team can run frequent promotions with high-quality mobile-specific content.
U-Campaign enables marketers to deliver much more immediacy, as well a richer and more dynamic mobile promotions - whether the consumer clicked on a link from an email campaign or social message, or responded to a promotion in an app.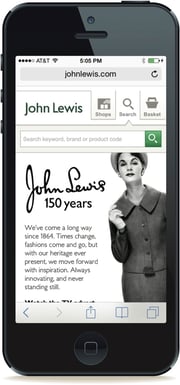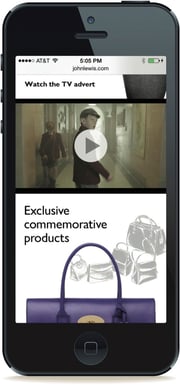 In support of John Lewis 150 Year Anniversary, U-Campaign landing pages Campaign landing pages were created to deliver content custom for mobile. The U-Campaign UI is consistent with the look & feel of the website and other campaign elements, but created as a unique mobile experience.

Further, for marketers limited by responsive design – which makes it more difficult to design and implement unique campaigns for smartphones and tablets – U-Campaign makes it possible to run channel-specific marketing campaigns on a responsively designed site.
U-Campaign landing pages are an ideal way to create and execute integrated mobile marketing campaigns. Content and functionality is displayed dynamically, and covers elements such as messaging, image carousels, look-books, video tiles, social engagement and location-aware functionality. With U-Campaign, marketers can create an endless number of unique landing pages linked to a custom url. Every U-Campaign is supported with analytics and is fully trackable.
A good example of a U-Campaign application is the work done in partnership with leading UK retailer John Lewis. Launched in lockstep with releases on the desktop site for the John Lewis 150 year celebrations, a set of landing pages were created to deliver mobile specific content that could be managed and executed by the marketing team.
Optimized mobile experiences are a basic consumer expectation, and at Usablenet we are committed to giving marketers the tools they need to create world-class mobile experiences that meet the needs of today's mobile-first consumer.