October in the US is National Disability Employee Awareness Month (NDEAM).
UsableNet celebrated NDEAM this year with our followers on social media by raising awareness about the importance and mission of NDEAM, shining a spotlight on our team members with disabilities, and sharing NDEAM- related resources from around the web.
In case you missed it, we've curated some of the most popular content from our month-long celebration in this blog post. Keep reading for 4 ways to continue with the NDEAM mission now that October has ended.
National Disability Employment Awareness Month is a month to celebrate the contributions of America's workers with disabilities and raise awareness of the contributions of people with disabilities in the workplace and the economy.
The theme for this Year's NDEAM is "Disability: Part of the Equity Equation.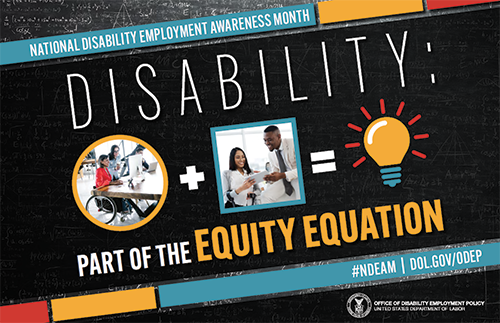 Official NDEAM Graphic from the US Department of Labor" Learn more about NDEAM
1. Celebrate the contributions of your team members with disabilities
UsableNet is proud to have a diverse team, and we used NDEAM to celebrate them and ask them for their perspectives on NDEAM and share their experience in the workplace.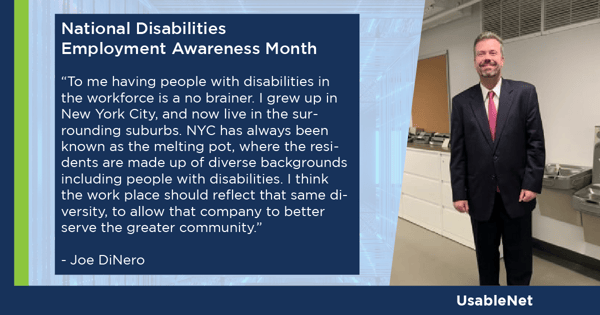 Joe DiNero is UsableNet's head user-tester and is the assistive technology specialist at Helen Keller Services (HKS). Joe teaches those who are blind or visually impaired how to use their assistive technologies and provides the user skills they need to achieve their goals. Thank you for everything you do, Joe! #NDEAM #A11y
Adriel Fernandez - User-Tester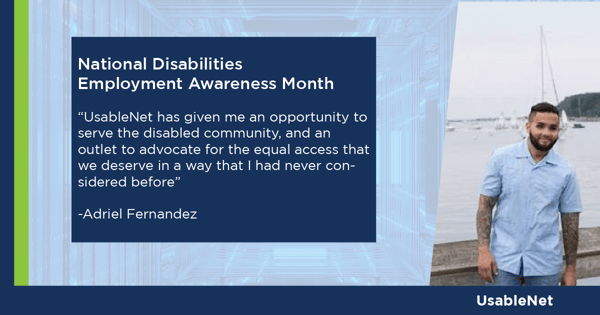 '"UsableNet has given me an opportunity to serve the disabled community and an outlet to advocate for the equal access that we deserve in a way that I had never considered before." Adriel Fernandez is one of our user testers who has helped make websites accessible. Thank you, Adriel!'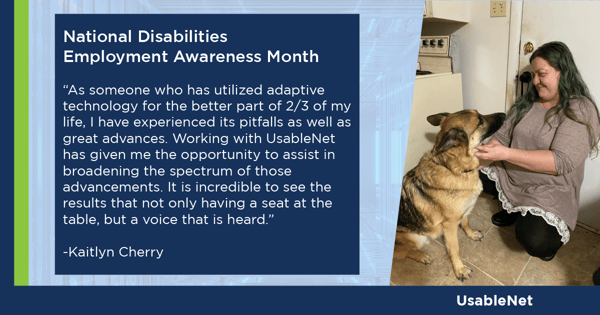 "It is incredible to see the results that not only having a seat at the table, but a voice that is heard." Kaitlyn Cherry is one of our User-Testers here at UsableNet and uses her assistive technologies to help our team make websites accessible for users of all abilities. Thanks for everything that you do, Kaitlyn! #A11y #NDEAM
Lily Mordaunt - UsableNet Intern Spring & Summer 2022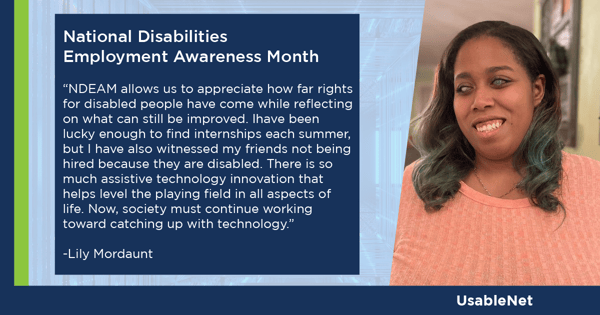 Lily Mordaunt interned at UsableNet this spring and summer and shared valuable insight on her experiences with digital accessibility. She wrote numerous articles discussing the importance of equal access, accessible concepts, and how companies can begin to approach accessibility. Thank you for your contributions, Lily!
2. Find and hire people with disabilities
Excerpt from our Webinar 'How to Set Up User Testing as part of accessibility program'
What are some ways you can employ people with disabilities this #NDEAM? In this video, Jason Taylor and Erica Braverman discuss ways you can find and hire people from the disability community for your website accessibility testing program. #A11y #NDEAM2022 Knowbility
3. Check out resources on NDEAM from around the web
Many organizations put out helpful materials during NDEAM. We've highlighted our favorites from the Department of Labor and Linkedin.
Disability: Part of the Equity Equation
You can learn more about the history of NDEAM and the importance of having users of all abilities in the workforce in this video.
Youtube video on US Department of Labor NDEAM blog post
See how LinkedIn is improving its accessibility initiatives and promoting roles and titles with accessibility.
LinkedIn] has tracked a 33% year-over-year increase in people sharing insights and ideas pertaining to accessibility, as well as job listings with the word "accessibility" in the title have spiked significantly since September 2019—they've seen a 171% increase.
4. Review your company's policies.
NDEAM is a natural time to review your company's policies and practices to ensure they include people with disabilities.
As Lily explains in her NDEAM blog post, Accessibility in the Workplace: A Blind Person's Perspective, employees with disabilities bring different experiences, valuable skills, and increased innovation to the companies that bring them on as team members.
Tip: run a free scan of your homepage or the career page on your website with our automated accessibility testing tool.
The Importance of Disability Employment Awareness
At UsableNet, we strive to raise awareness with our clients and honor the critical role that people with disabilities play in the workplace and the economy every day.
If you're ready to do the same but are unsure how to get started, you can check out this list from the Department of Labor on 10 ways to foster the NDEAM spirit year-round.
Thank you for celebrating NDEAM 2022 with us!