We've said goodbye to another Disability Pride month, at least until next year. Yet, just because we are no longer in July doesn't mean we should stop thinking about disability or the importance of digital inclusion. After all, disability impacts 1 in 4 adults in the US daily, not just in July.

For this post, I want to explore how my fellow disabled people use technology to find their way in an increasingly digital world.

It's one thing to write and read about how to make an app or website accessible and quite another to read about what it's like not having access to an accessible website. Or the delight someone feels when technology works and enhances the lived experience of people with disabilities.

I asked members of the disability community for their stories about how technology impacts their lives and how they live and work online. Here are those stories.
Emely Recinos, Visually Impaired Case Support Associate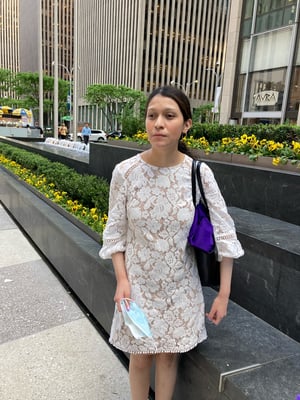 "Even though there are more disabled people working in the world and going to grad school, we still have to recognize that there are still gaps in accessibility for people with disabilities. There's a significant journey ahead to make systems in our society fully accessible and fully inclusive."
Emely primarily uses a braille notetaker and a screen reader. A braille notetaker is a portable device with Internet and word-processing capabilities. The device uses a refreshable braille display to present the information to the user. A screen reader is software that turns text elements on a computer, phone, or tablet into speech for users who cannot read the screen.
On the braille notetaker, Emely takes notes on referral calls, keeps track of her work agenda, and reads sensitive documents about the immigrant children The Young Center helps. When using the notetaker to write an essay, Emily said that once the preliminary work is completed, she usually transfers it to her computer.
Despite having these forms of technology to help make her work accessible, Emely still faces barriers at work. One such barrier is inaccessible documents. A screen reader cannot pick up handwritten notes, screenshots, or scanned images of documents like birth certificates. This is because screen readers only read text elements. And what is often clear and accessible to a screen reader will also work on refreshable braille displays. This means that Emely often cannot interact with an integral part of her job.
Many people may not realize that documents, like apps and websites, also have accessibility standards that must be followed. Headings must be clearly and correctly labeled; images need alt text and allow for keyboard navigation. When apps and websites link documents, like the bank statement on a bank website, for example, there is a possibility that a disabled person is unable to access this content.
Mariella Paulino-Peralta, Deaf Director of Marketing and Communications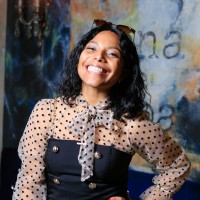 "We had to rely on a global pandemic to push the accessibility needle forward."
One assistive technology that Mariella uses is Google Live Caption. Available on Android and other google devices, Google Live Caption provides captions or written transcriptions for audio content such as phone calls and videos.
Assistive technology includes any device or equipment that is used to improve the lives of and provide equivalent access to people with disabilities.
Before talking about when and where Mariella uses the Live Caption feature, I want to step back a few years and talk about her experience when the pandemic first began. With everyone beginning to wear masks to protect against COVID 19, Mariella found herself heavily reliant on her partner for basic necessities, such as going to the post office. With everyone wearing masks, it became impossible for her to see faces to read lips.
With Google Live Caption, Mariella could keep up with family and colleagues during the last two years. She said Google meet has been her only platform for conducting meetings. It even provides live captioning in 4 languages, allowing Mariella to easily speak with her grandmother.
This story is one of the successful implementations of assistive technology. And a reminder of how important it is to design with accessibility in mind.
Equipping videos with closed captioning or providing a transcript allows your app or website to be inclusive for customers who are deaf or have auditory disabilities.
Milica Milić, visually impaired vision teacher

"Technology was designed to be used with vision because that appeals to the majority. Assistive technology, while wonderful, is just the world backtracking and realizing that we don't have to do things only one way."
Milica is a teacher of the visually impaired (TVI) who also happens to be visually impaired. Currently, she works at a school, IHOPE, where her students have multiple severe disabilities. In her daily life, Milica uses screen readers, a refreshable braille display, and Zoom. Zoom is a feature on Apple devices that allows users to Zoom into images or webpages and magnify text—and, as she's also color blind, the invert colors feature.
For her students, they use two primary pieces of assistive technology: switches and eye-tracking devices. Not to be confused with the portable gaming console, a switch is used by individuals with a motor impairment to communicate or control devices and appliances. The switches are typically used for communication for Milica's elementary-aged students. They can take the form of buttons with prerecorded messages or even a string that toggles a recorded message when moved. Then there are eye tracking devices, such as iGaze, which respond to eye movement to communicate the student's desires.
For Milica, she loves that there are such a wide variety of ways for her students to communicate.
The variety of assistive technology that Milica and her students use is a good reminder of the importance of having an accessible website. A keyboard-navigable site is optimal for a visually impaired person using a screen reader or braille display and a person with a mobility impairment using a switch or eye-tracking device to navigate. And incorporating WCAG color contrast guidelines allows for a color-blind user to navigate easily.
Zulay Valencia Diaz, Blind Law Student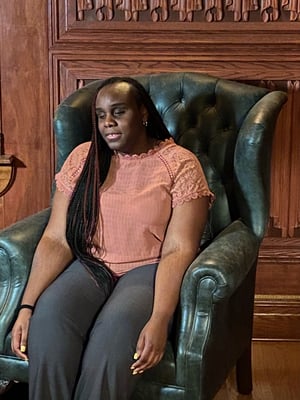 "During the progression of my life, I have seen things become more and more accessible, easier to navigate. But as we continue to live our lives online, it's unfortunate to know that, if people don't actively try to make things more accessible for blind people, there's going to come to a point where the technology advances beyond what we have now. So there will come a time when blind people cannot fully participate with their non-disabled peers."
To complete her readings and assignments for law school, Zulay uses a braille notetaker and screen reader. Most of the PDFs and digital books she needed for her first year of law school have been accessible. However, her experience was not as smooth during her undergraduate career. Her professors would sometimes send inaccessible PDFs. Her screen-reader wouldn't be unable to read them, forcing her and her professors to find workarounds. Sometimes that would be converting the text to a word document. And other instances, it would be finding alternate/similar materials.
In law school, the process has been much smoother, though she still sometimes finds sites that are only partially accessible. For example, one website allowed students to read the textbook directly from the website but would not let her navigate using lines or paragraphs. Instead, it would simply be one blob of text that she had to listen to in one sitting. Trying to lessen the amount of stress on her attention, Zulay attempted to download the text but could not find a download button.
PDFs and other documents linked to an app or website are also subject to digital guidelines. PDFs should be keyboard navigable, and all images should have alt text and other elements be clearly labeled. Like documents, websites must be keyboard-navigable to be accessible to a screen reader or refreshable braille display. And all buttons should be clearly labeled.
Digital Accessibility Impacts Everyone
Having closed-captioning on a website allows a deaf user like Mariella to have full access to any video content on your app or website. It also provides people in loud environments with an alternate way to access the content. Accessible PDFs help more than blind students, and case workers like Zulay and Emely get their work done. In addition, it ensures the highest possible quality for their non-disabled counterparts.
Many of us are familiar with the statistic that only ten percent of the population is left-handed. So the majority of the world is built to accommodate righties. The numbers are remarkably similar for disabled people as we make up only 15% of the world's population. Because of this, the world, including our technology, has been designed to cater to the able-bodied majority. Fortunately, the tide is slowly shifting for lefties and disabled people alike.
Assistive technology has come a long way in supporting inclusion online, but that technology still needs an accessible website or app to work properly. A critical step to ensuring your website and other content is accessible is to include people from the disability community in your testing program.
Contact us to learn how UsableNet employs real user testers as part of our solutions, Accessibility as a Service, and UsableNet Assistive and to determine which approach might be right for you.
Get to know the basics of how to set up user testing as part of your accessibility program by joining UsableNet for our August webinar. Save your seat now.