See how many lawsuits California had in the previous month with the industry's premier lawsuit tracker.
Website Accessibility has been a major focus in both the United States and Canada over the past decade, and there's no sign of that trend slowing down any time soon.
Instead, website accessibility is becoming more important than ever before, with lawsuits and settlements increasing quickly across all industries in North America. Accessibility laws are also changing in some places, becoming stricter and releasing more guidelines on exactly what's expected.
California is the perfect example of how accessibility laws are only becoming more stringent, and in this post we're going to take a look at what's different in California and what brought us to this point in online accessibility today.
The History of DOJ & Accessibility
The Department of Justice has taken online accessibility seriously over the past decade. This is because while the ADA has strict requirements about what needs to be available to customers in a physical storefront, the original law didn't have specific requirements for online websites.
As a result, in 2010 the Department of Justice (DOJ) provided notice that there would be work on creating a standard for websites and other guidance. This included how to work with third-party content, how much time businesses had to comply, and exactly what was expected of sites.
This lasted all the way through 2016, with Obama's DOJ aggressively looking at lawsuits and working to reach settlements.
In 2016, however, Trump's administration did the opposite, and declined to weigh in on motions for them to weigh in, including Robles vs. Domino's Though the Senate and the House of Representatives wrote to the DOJ, they received letters in return that Congress was expected to tackle these regulations. They confirmed that the ADA covers websites, and left it at that.
During this time, ADA lawsuits skyrocketed quickly. There was an explosion in cases from 2017 to 2018, resulting in an 181% increase.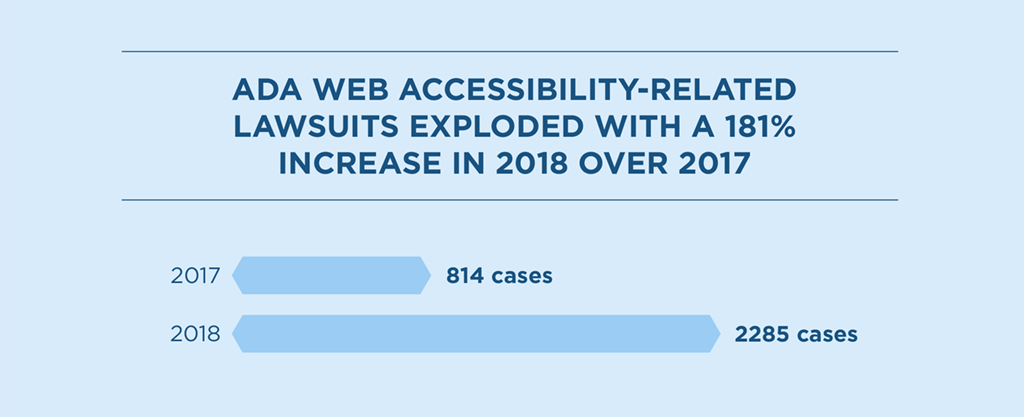 The DOJ refusing to offer clarity or introduce regulations didn't help, but it's also likely that there were a few attorneys who saw this as a business model opportunity.
Cases have increased ever since, and while filings in New York took the lead, it was followed by Florida and California. California had a huge number of state lawsuits, but were third in federal suits.
What Makes California Different?
California is becoming one of the most active legal spaces when it comes to Website accessibility. And that's due to a number of different factors. Let's look at each.
California's Unruh Act
California's Unruh Act is a major driver in what makes the state's accessibility lawsuits different from the rest.
Typically, if you're filing a lawsuit in the state court and alleging that there's a violation to the ADA, the defendant could remove the case to federal court, because ADA is a claim against a federal law.
With California's Unruh Act, however, any ADA violation also violates the Unruh Act, which is state mandated. As a result, plaintiff's attorneys will agree that they've violated the Unruh Act exclusively to try to avoid the case from continuing on to the federal court and driving up litigation costs and attorneys fees.
Robles v. Domino's Pizza (2019)
In 2019, the Robles v. Domino's Pizza case was reviewed by the Ninth Circuit, which held that the ADA applied to all websites and mobile apps, even though the app wasn't an issue within that particular lawsuit. They actually reversed an early dispositive motion on that due process and primary jurisdiction grounds.
The courts rejected the primary jurisdiction argument, saying it was the court's job to fill in gaps in the lawsuit so they didn't need to let the DOJ act first. They also said that Domino's had ample awareness of the ADA act. The Supreme Court declined to hear the appeal.
California's Consumer Privacy Act (CCPA)
In California, the CCPA requires that businesses allow their customers to know how they're using their personal information that the business has gained access to, including their name, email, and shopping history.
Included in the CCPA is a clause that requires businesses to ensure that their internal and external privacy policies are "reasonably accessible" to those with disabilities. This information should comply with the Web Content Accessibility Guidelines (WCAG) 2.1 Level AA.
California takes Charge
When web accessibility first officially became part of the ADA, the Department of Justice was heavily involved in reviewing cases and working to establish regulations. When the administration changed in 2016, however, and the new DOJ wasn't interested in taking on these cases, some states took matters into their own hands. California was one.
California is now one of the states leading the charge on accessibility requirements, so they're one to look to if you're interested in adopting the highest standard of accessibility on your site (and to mitigate lawsuits).
To learn more about what makes California different and gain more information about their accessibility laws, you can watch our webinar with Kristina Launey of Seyfarth and Shaw, "Accessibility Laws in California and How they Apply to Websites and Apps."