Over the past few months, people all over the globe have been forced to stay home during lockdown amidst the coronavirus pandemic. For many, it's the first time they've ever started to understand the necessity of digital accessibility now that physical locations are closed or unsafe due to health concerns. Many people with disabilities have faced these challenges on a daily basis for years.Though plenty of businesses all over the world have had to temporarily press pause, the same can't be said for ADA digital lawsuits during the current pandemic. New digital accessibility lawsuits have continually been brought against businesses all over the country.
Our data shows a slight slow-down in March when the ability to file lawsuits may have been impacted. However by early April, not only were Website lawsuits being filed but they are back at previous record-breaking levels of one lawsuit for every working hour.
In this post, We'll take a look at ADA accessibility lawsuits during the coronavirus and go over some of the steps your business can take to protect itself.
The post is a recap of our Webinar with attorneys from Lewis Brisbois, Peter Shapiro, Partner from the New York and New Jersey office; Vice-Chair of the Labor & Employment Practice and Melissa Daugherty, Partner from the Los Angeles office; Vice-Chair of the Labor & Employment Practice, and Chair of the ADA Compliance & Defense Practice. The live session was recorded on May 13, 2020.
ADA Digital Lawsuits During COVID-19: The Data
When we compiled the digital ADA lawsuit data filed at the federal level (which exclude lawsuits focusing on physical accessibility issues), we found that cases are still being filed.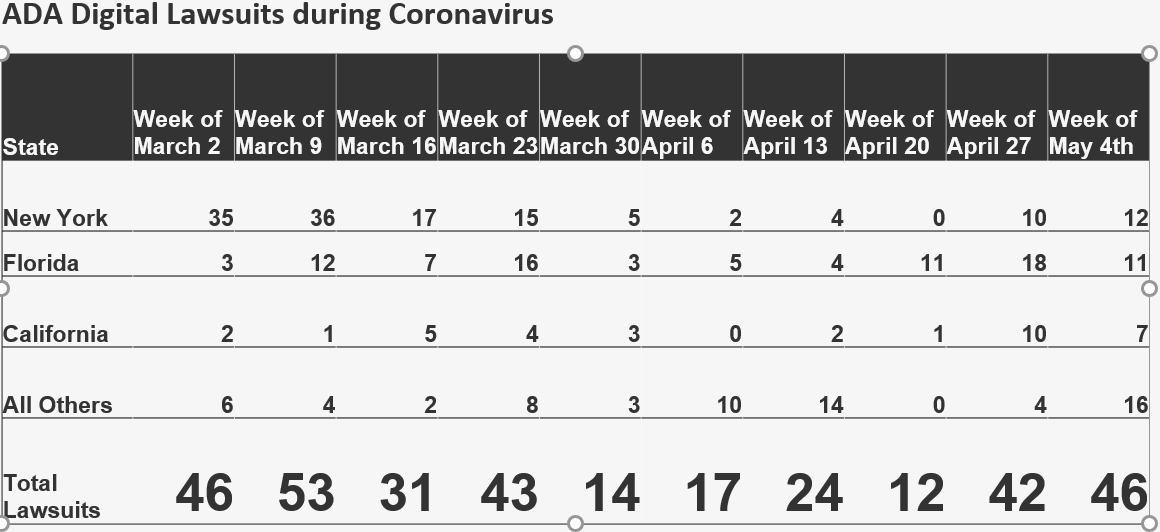 In early March, there were a substantial number of cases each week, ranging from 31-53 cases on a weekly basis. In April, cases dropped off, ranging from 12-24 during the weeks while more of the country was shut down. Once courthouses started opening back up again, however, during the week of April 27, the cases shot right back up to 42.
The majority of cases are being filed in New York, closely followed by Florida and with California at a distant third.
The Potential Impact of COVID-19 on ADA Lawsuits
ADA digital lawsuits are still being filed on a regular basis but the biggest change, according to Webinar speakers, is how the coronavirus has still impacted how the lawsuits move forward.
Though cases are still being filed, courts are delayed all over the country. This can delay filings and slow down the process in some jurisdictions, particularly in state courts.
In many cases, jury trials also aren't currently an option right now. This can reduce plaintiff's leverage, potentially leading to a reduction in settlement demands. Reduced settlement demands may also happen as a result of damage to the defendant's business due to the virus, as a large number of businesses have taken large financial losses during the economic crisis.
Trends in Digital Accessibility Cases in 2020
There are some things about digital accessibility lawsuits in 2020 that haven't changed much since pre-COVID restrictions.
The lawsuits, for example, are primarily brought forward by those with visual disabilities who listed broad complaints such as websites missing alternative text on images. Many also cite the ADA or WCAG guidelines and claim inequity of sites or apps compared to usage for those without disabilities.
While this has all remained the same, there are some new trends emerging, however, including the following:
Mobile is accounting for more lawsuits; both native mobile sites and apps are accounting for more than 20% of new cases.
Lawsuits are increasingly referencing WCAG 2.1, with more than 75% of cases mentioning it.
There's more focus on detail to suits, including screenshots.
There is an emergence of cases against companies that have already invested in Accessibility Widgets and Overlays, which was not as common before.
Recent cases filed during the past few weeks are more likely to reference "acute harm during COVID-19."
Factors That Open Businesses Up to ADA Lawsuits
It's important to acknowledge that it can be tricky for businesses to know whether or not they're creating fully accessible sites on their own.
That's because while physical expectations for the ADA are clear (providing exact measurements and specifications), the same can't be said for websites. The Department of Justice hasn't adopted regulations, so there are a number of different "industry standards" and state laws that can confuse expectations.
Keep in mind, too, that just because your business is one location doesn't mean that you can't be sued by another; New York plaintiff attorneys have gone so far as to sue businesses all over the country under the NYC law, stating that the website provides services in New York.
What to Expect if You're Sued
If your business is sued, there are a few things to keep in mind.
First, is that it's often expensive to fight the lawsuit. You need to account for court costs, legal fees, remediation, settlement costs, and the disruption to your business. You could go to court and lose, and need to pay an abundance of court fees, attorney fees, a settlement, and still make potentially expensive changes to your digital presence.
You can check if your insurance policy covers this, especially if you carry liability insurance. It's common, however, for policies to specifically exclude ADA website claims or to have specific guidelines surrounding their coverage.
Avoiding ADA Digital Lawsuits: The Best Solution
Many businesses would rather fix an accessibility issue upfront long before they're ever sued. Take some time now to look at mitigating your business's risk. Choose a WCAG standard (2.0 is the most common), implement it accordingly, and consider hiring an accessibility expert to assess and audit your overall digital presence.
When auditing your site, remember that automated tools can only flag some issues; they won't catch them all. Because of this, hiring accessibility experts who have disabilities is an extraordinarily valuable choice that will ensure nothing is missed, protecting you from lawsuits and keeping your site accessible.
Want to learn more about how to protect your business from ADA digital lawsuits during COVID-19 and beyond? You can now watch the full webinar, download the slides or view the transcript. .