"Retail is the Number-One Industry Targeted by ADA Website Lawsuits," you can now check out the new Executive Viewpoint published in Retail TouchPoints.
The story is based on UsableNet's midyear ADA report and a featured byline from UsableNet's Chief Innovation Officer, Jason Taylor. Jason highlights findings impacting the retail industry by analyzing all digital accessibility lawsuits filed in 2022 under the Americans with Disabilities Act (ADA). Read our recap here or skip ahead and read "Retail is the Number-One Industry Targeted by ADA Website Lawsuits" on Retail Touchpoints now.
What Key INsights Do REtailers need to Know about Digital Accessibility?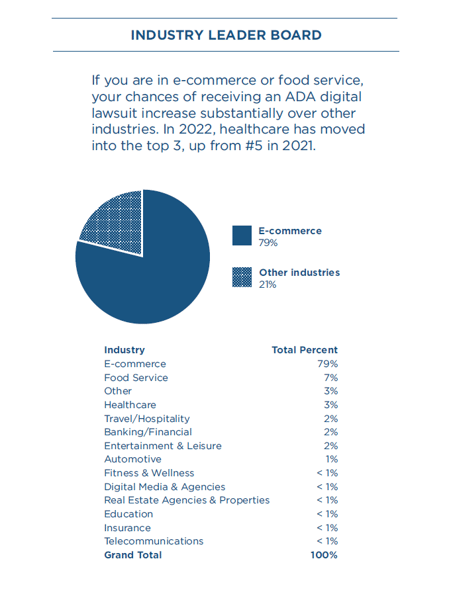 "Based on the average filing rate at the end of June 2022, there may be as many as 4,455 ADA-based cases filed for websites and apps this year."
According to our Mid-Year 2022 Digital Accessibility Lawsuit Report, e-commerce lawsuits made up 79% of all digital ADA lawsuits from January to late June 2022. Plaintiffs filed 73% of cases against companies with less than 25 million dollars in annual revenue. Plaintiffs are also suing large companies; 50 of the top 500 e-commerce retailers have received a lawsuit so far in 2022.
Retail companies of all sizes must make your website and its contents accessible, or you may receive a lawsuit in 2022.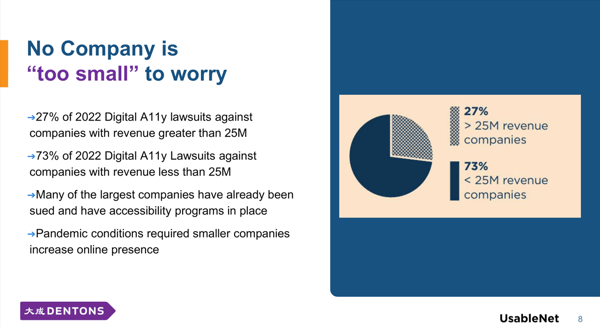 From our webinar '2022 ADA Lawsuit Report: Insights for Business Leaders
Why DO E-Commerce Companies get sued for ADA more than other industries?
E-Commerce companies receive the most lawsuits for digital accessibility. But why? Are retail sites less accessible than other industries?
In his Executive ViewPoint, Jason offers three reasons why this might be:
E-commerce sites are easy to find. E-commerce sites are everywhere and have a larger digital presence than other industries.

E-commerce sites are constantly changing. E-Commerce websites make frequent updates, allowing a higher possibility of accessibility issues for a plaintiff to find.

E-commerce companies may be more likely to have a process in place to settle. Many companies with an e-commerce business may understand the ADA and be more likely to settle.
WhY Should Retailers be paying Attention to ADA-Based Lawsuits for WEbsites and Apps?
Disabled users are the third largest market segment in the United States, with over 61 million Americans have a disability. The disabled community accounts for over 1 billion dollars in the market. If they can't access your site, you are losing out on money.
In addition, these lawsuits can hurt your brand's reputation.
How can I check My website's accessibility?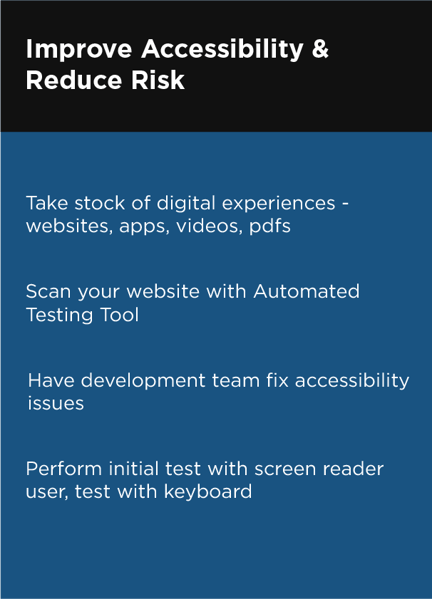 It's hard to know where to begin when checking your website for accessible experiences. Below are some of the first steps you can take to see how accessible your website is.
Take inventory of all your digital assets. Include your website, PDFs, videos, podcasts, and other multimedia.

Run an automated scan

to see the low-hanging fruit that plaintiffs might use when filing a lawsuit

Have your web developers fix any accessibility issues that came from these scans

Practice

user testing

with people in the disability community.
Get proactive about WCAG Compliance and Accessibility.
Everyone, especially those in the e-commerce industry, should be proactive about accessibility. Getting serious about digital accessibility is your best bet to serve the 60 Million Americans with disabilities mentioned above and reduce your chances of getting an ADA-based lawsuit. To learn more, read Jason's Executive ViewPont in full here.
Are you a retailer looking to get started on accessibility? The most commonly cited standard in ADA lawsuits is WCAG 2.1. Our AQA free test lets you test your site for WCAG 2.1 compliance. Find out where you stand. Try AQA, our web accessibility testing software, for free now.