Digital accessibility has been a big topic for many brands over the past few years—every organization with a digital web presence to make digital inclusion and accessibility an initiative for 2022.
In 2022, we are frequently seeing 100 lawsuits for ADA website compliance filed in a single week. This post covers accessibility in 2022 and what businesses need to know to protect themselves.
To provide our readers with the most up-to-date information, we cite our midyear 2022 law report in this post. To download the report directly, click here.
Digital Accessibility Claims Are Only Going Up
President George H.W. Bush signed the ADA into law back in 1990. Since then, precedence has established that the ADA extends to digital properties like websites, mobile apps, and videos.
Plaintiffs filed over 12,000 ADA lawsuits in 2021, 4,000 of which focused on access to digital properties. Plaintiffs filed most lawsuits in New York, California, and Florida.
View case numbers in key states monthly by checking our ADA website lawsuit tracker.
In 2022, we again see that most lawsuits are in New York, California, and Florida.
In the first quarter of 2022, there were decidedly more lawsuits in New York and California. Then, in quarter two of 2022, cases in Florida again began to rise, growing from only 45 in the first quarter to more than 100 in the second quarter of 2022.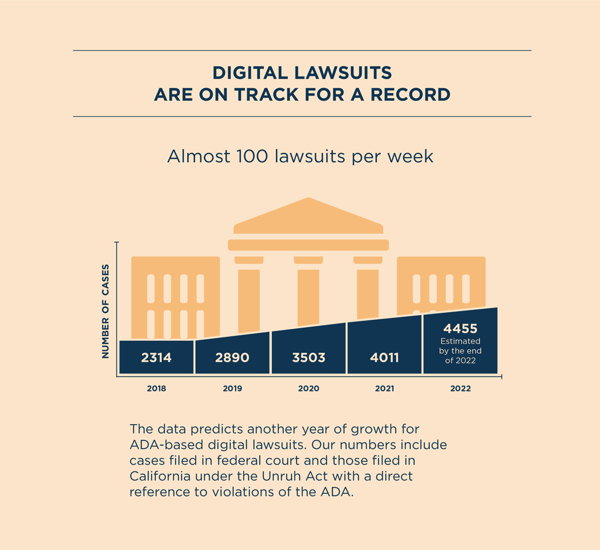 If these trends continue in 2022, we predict more than 4,400 lawsuits in 2022. The expected rise isn't surprising since the number of cases has risen yearly since at least 2018.
Business Website Accessibility: The Current State of ADA Expectations
The DOJ initially indicated that they wanted to propose regulations accessing website accessibility in 2016. The proposed rules would outline what businesses need to do to make websites accessible and compliant with ADA. However, after the change in administration from Obama to Trump, the DOJ withdrew its intent to propose rulemaking in 2017.
In March 2022, the DOJ circled back to website accessibility, publishing new guidance.
They've said, "The Department has consistently taken the position that the ADA's requirements apply to all the goods, services, privileges, or activities offered by public accommodations, including those offered on the web."
The March guidance is more information than we've had in recent years about how the ADA applies to the web. However, critics argue the DOJ hasn't said enough to help businesses inexperienced at digital accessibility know what to do or to protect those businesses from serial plaintiffs' lawyers. Indeed, since 2017 businesses have aggregately paid millions of dollars in settlement payments.
Serial filers using the same few plaintiff firms are common; the top 10 plaintiff law firms account for 80% of all filed for ADA digital accessibility in federal court.
The State of the Law for Digital Accessibility
The reality is that where we're at now can be confusing for businesses.
In one case (Ninth Circuit-Robles v Domino's Pizza), the court found that a nexus to a physical location is required for an accessibility claim.
In another (First Circuit-National Association of the Deaf v. Netflix), the court determined that nexus was not required.
These lawsuits took place in smaller courts. Unfortunately, the US Supreme Court is unlikely to resolve the circuit split soon.
State-Specific Regulations & Laws for WEb Accessibility
Some states have statutes that make accessibility lawsuits more common.
In California, for example, the Unruh Civil Rights Act allows for injunctive relief, the recovery of attorneys' fees, and statutory damages in the amount of $4,000 per violation.
New York allows for statutory damages ranging from $100 to $500 per violation. Accessibility actions are filed as putative class actions in jurisdictions that permit statutory damages.
Resolution Approaches for ADA Lawsuits
There are three core resolution approaches that UsableNet has heard some legal partners advise that brands might take when it comes to ADA lawsuits:
Confidential individual settlement. Most cases fit this bill, settling before discovery commences on an individual basis.
Public individual settlements with a consent decree.
A public class settlement with a consent decree. A few defendants have agreed to this, settling on an injunctive relief-only basis.
Remember: This blog is for educational purposes only. Please consult with qualified legal counsel in your jurisdiction if legal advice is required.
The Accessibility Lawsuit Trends You Need to Know
New trends are emerging; some staying consistent from past years.
These include the following:
If you are in e-commerce or food service, your chances of receiving an ADA digital lawsuit increase substantially over other industries. New in 2022, healthcare has moved into the top 3, up from #5 in 2021.

Over 400 companies that used an

accessibility widget or overlay

received lawsuits in 2021. In 2022, businesses using accessibility widgets received more than 300 lawsuits, a big YOY increase.

A typical claim in 2022 includes a list of Web Content Accessibility Guidelines (WCAG) issues and if there is an accessibility policy posted on the website. While prior lawsuits focused on compliance with the WCAG 2.0 Level AA success criteria, there were increasing cases citing noncompliance with the

WCAG 2.1 Level AA success criteria

.




ADA Website Compliance is your best bet
Digital accessibility lawsuits aren't going anywhere. Instead, the numbers indicate that the opposite is practically guaranteed to be true.
To protect your business now, increase your digital accessibility and reduce legal risk. The following are the best steps to get started:
Inventory all websites, apps, PDFs, and multi-media

Create and publish an

accessibility statement

Test for WCAG 2.1

Perform user testing conducted by people with disabilities
A trusted partner can help you improve accessibility and reduce legal risk. Contact us for a free consultation with an accessibility expert. Start planning your digital accessibility initiative with our new checklist; download it now.