This week is the 33rd anniversary of the Americans with Disabilities Act (ADA), a civil rights law enacted by Congress in 1990 to provide a clear national mandate for eliminating discrimination against people with disabilities.
When we speak about the website and digital accessibility lawsuits at UsableNet, we are discussing ADA-based lawsuits. So how did the ADA, a law from 1990, come to apply to websites in 2023? We created a new e-book that explains and includes an overview of critical cases and what to do if your company receives a lawsuit for having a website or app that is not accessible to people with disabilities.
The following is an excerpt from our Primer on ADA and Digital Accessibility. Get the guide.
The number of cases brought in federal and state under the ADA against websites or mobile apps exploded in 2018, growing 181%. These numbers have increased in subsequent years. Plaintiffs filed over 4,000 ADA-based lawsuits for websites and apps in 2021 and again in 2022.
Interestingly, in 2022, 4,000 different plaintiffs did not file 4,000 unique lawsuits. Only 10 to 20 law firms representing just 20 to 30 plaintiffs file all these cases. Of the over 4,000 lawsuits from 2022, ten plaintiff firms filed 80% of the cases. Because of these numbers, ADA lawsuits for digital accessibility are sometimes called "drive-by" or "surfing" lawsuits.
Most ADA lawsuits filed since 2018 result from plaintiff law firms finding accessibility issues on websites and suing companies, claiming that these companies' digital assets don't deliver equal access to people with disabilities as guaranteed under the ADA. Plaintiff firms can bring claims on behalf of the individual plaintiff or allege claims for the class.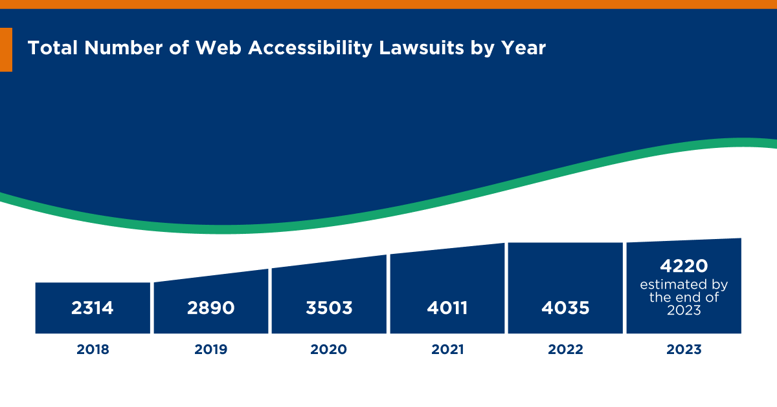 What Does The ADA Say About Websites, Businesses, And People With Disabilities?
The ADA does not explicitly mention websites. The Internet, as it is known today, did not exist when the ADA was first enacted in 1990. The Americans With Disabilities Act (ADA) aims to eliminate discrimination based on disability. The ADA broadly protects the rights of individuals with disabilities. The ADA considers a person disabled if they: have "a physical or mental impairment that substantially limits one or more major life activities," "has a record of such impairment, or is regarded as having such an impairment."
There are three titles to the ADA. Title III of the ADA applies to businesses that are places of public accommodation. Title III of the ADA is relevant when discussing website or digital accessibility lawsuits. The Department of Justice (DOJ) oversees the ADA. It has provided precise regulations and guidance for brick-and-mortar around physical barriers, including removing those physical barriers.
Unlike Title One of the ADA, which applies to employers, there are no minimum employee requirements for a Title III claim. As long as your business is defined as a place of public accommodation, there is no limit to the number or number of employees you must have for ADA Title III to apply.
What Is A Place Of Public Accommodation Referenced In The ADA?
Places of public accommodation are privately - not publicly - owned but open to the public. A place of public accommodation covers commercial facilities and private entities whose operation affects commerce, and that's all within at least one of twelve specifically identified types of establishments:
1. Places of lodging (e.g., inns, hotels, motels) (except for owner-occupied establishments renting fewer than six rooms);
2. Establishments serving food or drink (e.g., restaurants and bars);
3. Places of exhibition or entertainment (e.g., motion picture houses, theaters, concert halls, stadiums);
4. Places of public gathering (e.g., auditoriums, convention centers, lecture halls);
5. Sales or rental establishments (e.g., bakeries, grocery stores, hardware stores, shopping centers);
6. Service establishments (e.g., laundromats, dry-cleaners, banks, barber shops, beauty shops, travel services, shoe repair services, funeral parlors, gas stations, offices of accountants or lawyers, pharmacies, insurance offices, professional offices of health care providers, hospitals);
7. Public transportation terminals, depots, or stations (not including facilities relating to air transportation);
8. Places of public display or collection (e.g., museums, libraries, galleries);
9. Places of recreation (e.g., parks, zoos, amusement parks);
10. Places of education (e.g., nursery schools, elementary, secondary, undergraduate, or postgraduate private schools);
11. Social service center establishments (e.g., daycare centers, senior citizen centers, homeless shelters, food banks, adoption agencies); and
12. Places of exercise or recreation (e.g., gymnasiums, health spas, bowling alleys, golf courses).
Congress amended the ADA in 2008. It stated the purpose of the amendment was to carry out the ADA's objectives of providing a clear and comprehensive national mandate for eliminating discrimination and clear, strong, consistent, enforceable standards addressing discrimination by reinstating a broad scope of protection under the ADA.
Nevertheless, Congress did not reference websites in the 2008 amendments.
Why Are Plaintiffs Suing Companies Under The ADA?
The DOJ interpretation of the ADA has led plaintiff firms and the courts to apply the ADA to websites. The DOJ has held that the ADA applies to digital assets like websites and apps, and they established that opinion by joining lawsuits. From 2000-2017, the DOJ actively joined the plaintiff's side. In those cases, most plaintiffs were more traditional advocacy groups, the National Federation for the Blind. Through these legal actions, the DOJ effectively demonstrated that people with disabilities could not be discriminated against in the digital world.
The DOJ did a great job advocating for the accessibility of the digital world. Still, it failed to deliver specifics of how companies should do that. For example, the DOJ failed to specify how big a company should be to need its website accessible to all. The DOJ failed to produce specifics of Safe Harbor, which is how long companies must adhere to make their websites accessible.
In September 2010, the DOJ announced in advance notice of proposed rulemaking that it would issue new regulations on titles Two and Three of the ADA to address web accessibility. And at that time, they provided statements that covered entities with an inaccessible website may comply with the ADA's access requirements by providing an accessible alternative, such as a stack of files online. The DOJ noted, however, that the alternative must provide equal access. At this time, the DOJ was interceding in lawsuits and bringing claims.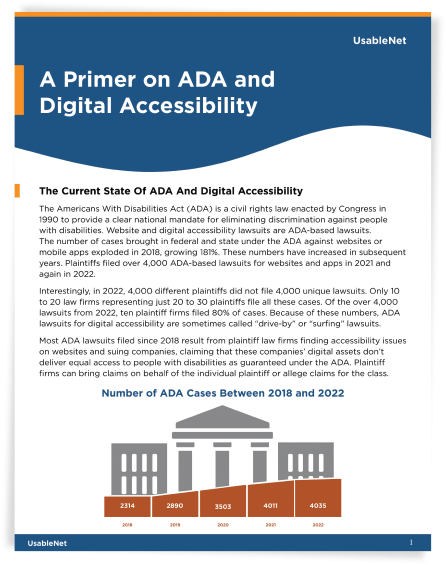 Interested in reading more? In the rest of our free guide, we cover:
An overview of the DOJ's 2022 guidance on web accessibility
Average settlement costs
Highlights of ADA case law around digital accessibility
What to do if you receive a claim or demand letter