Rapid innovation and creative adaptation are two mainstays of today's age. Therefore, it's necessary to keep your accessibility efforts moving at the same quick pace as your other business endeavors.
2021 has already been full of inspiring tech advancements benefitting the disabled community. How can companies raise their standards when it comes to the accessibility of their websites?
We gathered some data revealing opportunities in digital accessibility for increased awareness and growth.
Opportunities for Growth in Digital Accessibility Trends
1. Remember Mobile Apps
App usage continues to increase (with a projected 15.2 billion app downloads in North America by 2023!) Likewise, ADA claims against these mobile apps have followed suit! Our research found that over 100 companies have already received claims for inaccessible digital apps.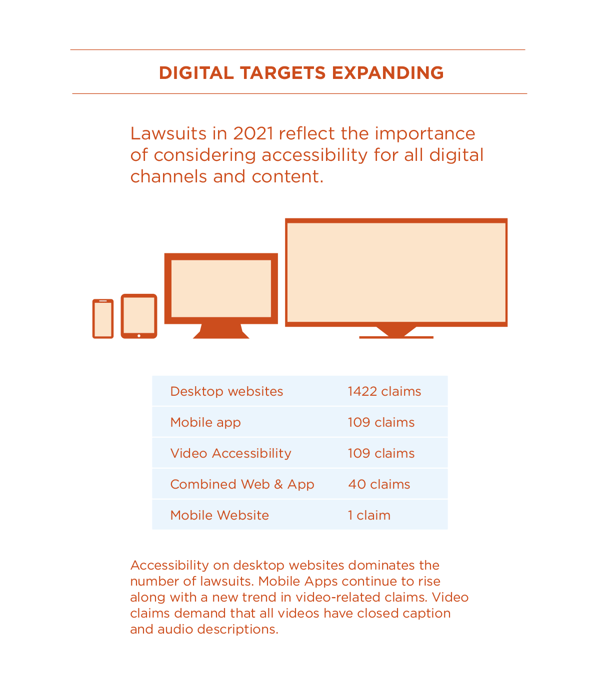 Even more concerning, only 46% of businesses with public smartphone apps actually audit the app for WCAG accessibility, according to the Disability:IN 2020 Report. Ensure your app is compliant with our Six Simple Steps to App Accessibility.
2. Run Comprehensive Accessibility Testing
Here's a scary statistic: when asked about automated web accessibility tools, over 60% of business leaders thought that these solutions would be enough for full digital ADA compliance.
Accessibility experts agree that automated testing tools, even the best ones, can only identify about 25-30% of accessibility issues. Automatic audits are only a first step in ensuring your website's complete usability. Make sure you're prioritizing manual testing and testing by users from the disability community.
3. Avoid Overlays and Widgets
Our data shows an alarming increase in lawsuits against websites that use overlays and widgets. These cheap "accessibility" solutions are actually detrimental to the digital experiences of those with disabilities! Learn more in our blog post on the drawbacks of widgets and overlays.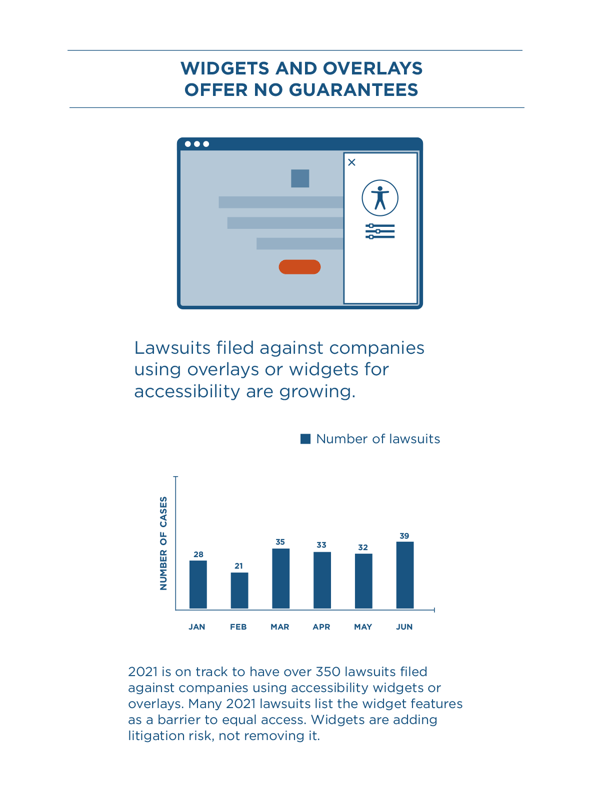 Let's Improve Digital Accessibility for everyone!
Although more companies are paying attention to the complex matter of web accessibility, there is still much to do! Luckily, there's plenty of valuable information out there that can help business owners tackle this issue head-on.
Now is the time you are likely planning your initiatives for 2022, let's make it the year where digital accessibility isn't a question of if, but how.
Need more resources on how to get started with your accessibility journey? Check out our beginner's guide to read more about the first steps to take!
If you've already read up on the task and want to speak with a member of UsableNet today, reach out here. We'd love to hear from you!