At UsableNet, we've just launched a monthly ADA Accessibility Lawsuit Tracker to report any claims against a website, mobile app, or video content filed in federal court under the ADA or the Unruh Civil Rights Act in California.
ADA-based lawsuits for inaccessible websites, apps, and videos have exploded in only four years. The ADA website compliance lawsuit tracker will show the rise in digital accessibility lawsuits.
The tracker will feature the latest data and trends for ADA-based suits, with numbers from critical states like New York, California, and Florida.
Skip reading and view the tracker with the latest numbers here.
Why we created our
Ada website compliance lawsuit tracker
At UsableNet, we provide accessibility services and solutions to support Fortune 1000 companies, small and medium enterprises, government, and education organizations across industries. Our ADA Website Accessibility Lawsuit Tracker is the latest effort by UsableNet to help the accessibility community advocate for digital accessibility and keep our strategic partners informed of lawsuit trends.
By delivering this data monthly, we hope it can facilitate productive conversations around accessibility and how companies can and should prioritize digital accessibility initiatives.
When the courts make new rulings on how the ADA applies to the Internet, our ADA website accessibility lawsuit tracker can provide an objective reference of the impact. For example, after the Winn-Dixie ruling last year, we found that lawsuit numbers in Florida decreased compared to other states. You will now observe this trend in the next month via our new tracker.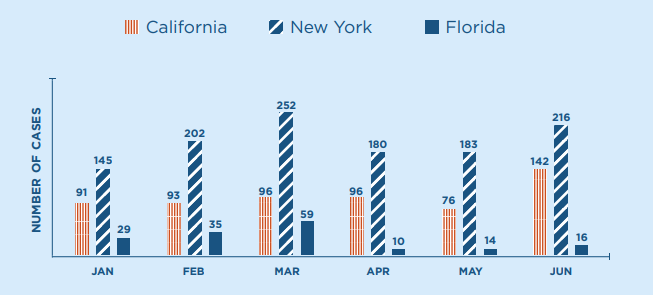 Image description: Chart of lawsuits by state from Jan-June 2021 shows that lawsuits in Florida fell significantly after March 2021 compared to other states tracked, New York and California.
We've designed the ADA compliance lawsuit tracker as a quick reference tool between our bi-annual reports. Our highly anticipated bi-annual reports have more data points and trends for the entire year and mid-year.
Who should use our ADA compliance lawsuit tracker?
This dashboard is a tool for folks interested in a high-level overview of trends and the shifting ADA litigation landscape for digital accessibility, like attorneys and general counsel. Accessibility experts, DEI advocates, website and business owners, compliance officers, developers, UX designers, marketers, and more can use our tool. We've designed the tracker to provide a simple-to-understand overview of the state of cases for digital accessibility.

Image Description: Dashboard from ADA accessibility lawsuit tracker showing May had 466 lawsuits, 91 were for companies that had a lawsuit in the past, and 73 lawsuits were against companies with a third party accessibility widget installed on their site.
How the tracker will report on Video, App, and Web Accessibility Lawsuits
Each month, you'll find updates that help you view trends in ADA compliance lawsuits for digital accessibility, access relevant resources, and advocate for digital accessibility.
The dashboard provides users with comprehensive details in four core areas, including:
Overall lawsuit numbers filed for the month

The number of defendants with a previous ADA digital lawsuit

The number of companies sued while using a 3rd party accessibility-related control, such as an accessibility widget

The number of lawsuit filings in critical states for cases, such as California, New York, and Florida
App and Website Accessibility Lawsuits in May 2022
We've showcased May trends for the June launch of the web tracker. View the tracker here.
In May 2022, digital accessibility lawsuits have risen to more than 400 lawsuits for the month. Plaintiff law firms filed more than a dozen lawsuits each day. The May lawsuit filing rate surpasses the average filed per month or day in previous record-breaking years.
From the tracker's breakdown by state, we can see that plaintiff firms have filed the most cases in New York. Plaintiff law firms are also filing less in Florida, a trend that started after the Winn-Dixie ruling in April 2021.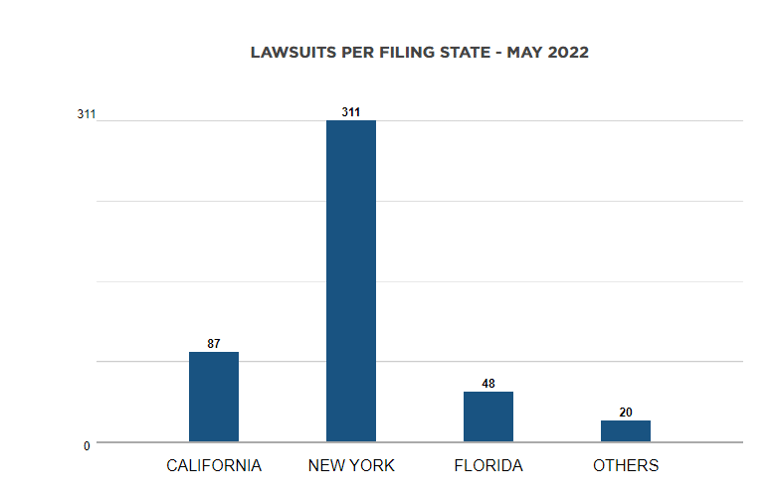 Image Description: Chart of lawsuits filings by state in May: California 87; New York 311; Florida 48; Others 20
UsableNet's mid-year report will determine if this is unique for May or a trend for the first half of 2022. register to receive our bi-annual report here.
Methodology for the ADA Website Compliance Lawsuit Tracker
The UsableNet team monitors all ADA lawsuits filed at the federal and state level, including cases filed in California under the Unruh Civil Rights Act. The research team reviews if lawsuit claims are for digital accessibility or physical. The UsableNet team separates any lawsuits related to digital accessibility.
This dashboard builds on other reporting UsableNet has created, including:
our mid-year digital accessibility lawsuit report;
and our end-of-year ADA app and web accessibility lawsuit report.
Our commitment to Web accessibility and the disability community
As we continue to support efforts to improve digital inclusion and make the online world more accessible and usable for all users, UsableNet will continue to invest and produce visual content like our tracker and bi-annual reports.
The ADA Accessibility Lawsuit Tracker for digital accessibility lawsuits is available on usablenet.com; view the tracker here. You can also register for our mid-year report here, and be the first to know the latest trends from the hundreds of lawsuits filed as of mid-year 2022.