Based on feedback from the accessibility community, we've collected our most popular posts from social media on digital accessibility best practices, news, thought leadership, and insights.
You can now read updates on digital accessibility from industry-leading news outlets and accessibility experts all in one place.
Take a look and let us know in the comments if you'd like to see more blogs like this!
UsableNet's Top Posts:
California Appellate Court Holds Web Access Claims Against Web-Only Businesses Fail Under ADA and Unruh Act
"Hear from a top ten ADA Defendant firm Morgan Lewis on California's ruling websites without a physical location are not a place of public accommodation"
Workplace inaccessibility is keeping disabled people from jobs
"Inaccessibility plagues hiring practices and workplaces across the country, making it harder for disabled people to get interviews, score jobs and find a workplace that meets their needs."
Accessibility vs Usability: What is the Difference to the Disability Community?
"What's the difference between accessibility and usability? you might think that when you test for accessibility you are testing for usability and vice versa, but there are key distinctions between the two that require different sets of tests. Read more about the differences between accessibility and usability."
Speaker Spotlight - Erica Braverman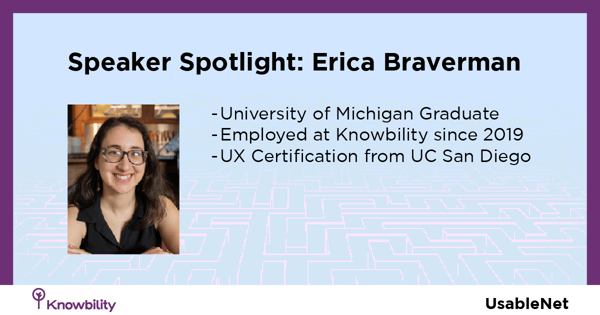 "Get to know knowbility's Erica Braverman before our webinar!"
Jason Taylor's Top Posts:
Jason Taylor is the Chief Innovation Strategist for UsableNet and works closely with our CEO, Nick Taylor. Jason has been in the digital accessibility space for over 20 years and brings a valuable perspective to digital accessibility news.
Free Webinar "How to Set Up User Testing As Part of Accessibility Program"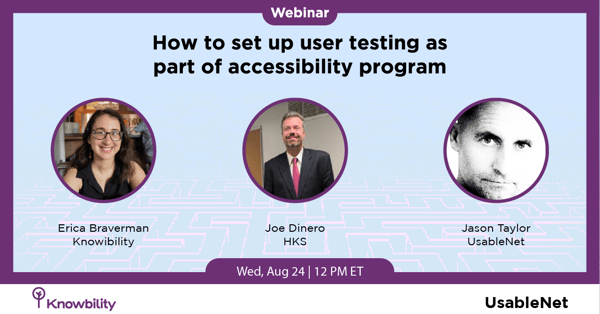 "Join us to learn how to integrate user testing into your A11y process. We had important guest speakers, Erice Braverman and Joe DiNero, both of whom gave practical, everyday advice on how to incoroporate user testing successfuly in your company."
"Accessibility of Remote Meetings"
"Great resource from W3C on how to host and run accessible remote meetings. This will help all organisations ensure everyone is included in internal and external key communication activities."
"More North Coast Winery Website Lawsuits End Without settlements"
"More relief from ADA Digital Lawsuits in CA becoming a trend. This week more Napa winery cases were dismissed and last week's key ruling on online-only businesses' websites not being subject to the ADA. We are seeing CA-based lawsuits significantly reducing."
"Klondike class action alleges website not accessible to blind, visually impaired"
"Following my post - CA giving ADA lawsuit relief - here is NY example to stress if you do business in New York, even if only online, you should be ensuring your website is accessible."
UsableNet Blog - "Why Include the Disability Community in Your Web Accessibility Program"
"If you could not attend our webinar, here are some key takeaways in the form of a blog."
These articles reflect the current accessibility lawsuit trends and the importance of implementing user testing as part of your accessibility strategy. Don't forget to follow us on social media to stay up to date on the latest digital accessibility news!